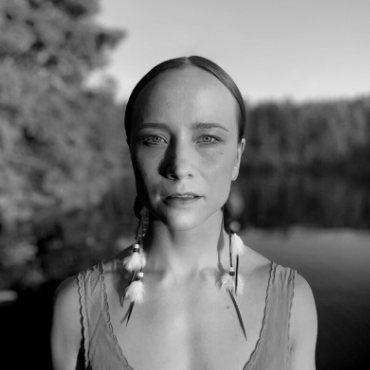 Annamari Keskinen
is a dancer and choreographer based in Helsinki, Finland. For the past 18 years, she has worked internationally in dance companies and as a freelancer with over 30 different choreographers and directors. Choreographers to mention; Johannes Wieland, Valtteri Raekallio, Chris Harring, Stephanie Thiersch, Andonis Foniadakis, Helder Seabra, Jozef Frucek and Linda Kapetanea. In 2011 she was awarded the Nachwuchspreis Fördergesellschaft at Staatstheater Kassel.
Next to her dancing career Annamari has made her own choreographic works since 2008. Her first full-length work 'Ikimono' was seen at the Staatstheater Kassel in Germany in a two-part evening 'emoji' season 2016/2017. Annamari is a founder and artistic director of the dance theater company Thar Be Dragons together with dancer and choreographer Ryan Mason. Here, both choreographers bring their professional experience and individual artistic vision into collaboration. In addition to their collaborations, Thar Be Dragons functions as a platform for both choreographers to create and present their individual work. The company work explores notions of subconscious communication, revealing dense and sometimes unseen intimacy between the layers of our inner landscapes. Their staged work shifts between rapid changes of mood, sustained states of tension, and layered imagery, often encircling themes of death, the unknowable, the paradoxical, borders, silence, light, the mystical, and the quotidian. Thar Be Dragons presented their first full-length site-specific work, 'Dying Animals Don't Feel Sorry For Themselves' at the Kaiku Club in Helsinki in 2018. The company has since been commissioned to create work for Staatstheater Kassel (EI/anarchy of the body 2018), Hubbard Street Pro (DEAD SLOW AHEAD 2019) and Staatstheater Braunschweig (BLINK 2022).
Their work has been supported by Kone Foundation, JoJo-Oulun Tanssin Keskus, Arts Promotion Centre Finland, Jenny and Antti Wihuri Foundation, Samuel Huber Foundation, Alfred Kordelin Foundation, Tanssin Talo (Dance House Finland) and Shawbrook Dance Ireland. Annamari is currently working with a year-long working grant awarded by the Alfred Kordelin foundation in Finland.
In addition she has been teaching professional and semi-professional dancers in Staatstheater Kassel, b12 festival, Salzburg Experimental Academy Of Dance (SEAD), Tanssille ry, Finnish National Opera Ballet School, Dock 11, Diversions (National Dance Company of Wales, Iwanson and Unite Dance Camp India among others.
I'm fascinated by things I don't understand but speak beyond words. Through my art, I explore the potential in people and the world around us. I am interested in how multilayered and often unseen landscapes can be made visible through choreography. I want to convey deeply ambiguous emotional states and events. I'd like to invite performers and audiences to adventure, explore and experience the power of imagination and its potential to enhance empathy, connection and a general opening of perception.