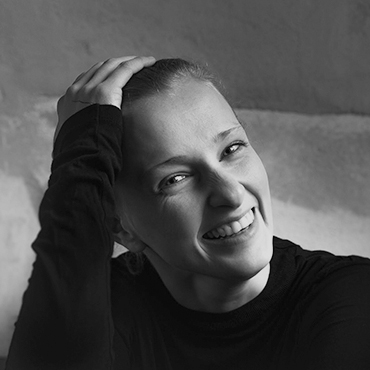 Maria Kolegova
started her dance career in a ballet school at the age of 5 and continued her education as a contemporary dancer in a school of contemporary dance with support of the Centre of Contemporary Art in Yekaterinburg (Russian Federation). While studying, she discovered many dance techniques including martial arts and yoga. In 2004 she performed a solo made by L. Aleksandrova at a competition of contemporary dance in Seoul (South Korea) and became a gold medalist. After her graduation from the Theatrical Academy in 2012, she was part of 'Chamber Ballet' Moscow (Russia).
Artistically, she is working with the choreographer, filmmaker and photographer Wim Vandekeybus and is a member of his company Ultima Vez since 2012.
She has offered an extensive amount of pedagogical activities, across Europe and Russia, through movement workshops, company classes and training programs.
Maria, also known as Masha, has been learning and training the skills she acquired while studying to become an actor – Mikhail Chekhov technique. One of her main goals in her work as an actor is connected to the body, imagination, fantasy and thoughts. With the technical, dance knowledge she gained in classical ballet and in contemporary dance she started to work with completely different intentions. She places great importance on finding meaning in action, to generate narrative through physicality and turning emotions inside out. She has discovered physical action not only as form, but seeks its limits and possibilities by going further than 'simple' physical modalities.
"Dancers and actors have one hundred percent freedom to create their personal material on any proposed circumstances and simple tasks. We make decisions together, discuss intentions and draw conclusions."