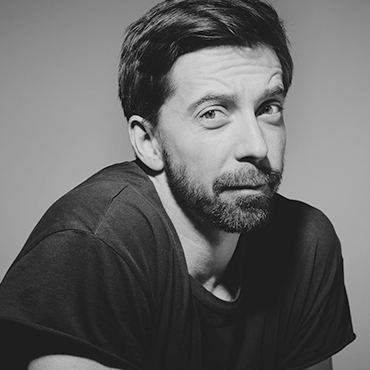 Máté Mészáros
is a Hungarian choreographer, dancer and teacher. He started his movement and artistic studies in 1995 and graduated from the Hungarian Dance Academy in 1999. After three years at the Szeged Contemporary Ballet he has worked at various European companies – Carte Blanche (Norway), Lanònima Imperial (Spain), Última Vez (Belgium).
Upon returning to Hungary in 2014 he created his work Hinoki, which premiered at Trafó House of Contemporary Arts. His next full evening show, titled United Space of Ambivalence, with five dancers premiered in 2018 also at Trafó. His recent piece is a trio titled Mechanics of Distance with three dancers. He is a regular guest choreographer of various European dance and theatre companies and teaches partnering extensively. Pushing physicality to its limits in his choreography, Mészáros regards the body as a structural phenomenon.
Since the beginning to this day, his main interest is to continue evolving. Every decision he takes serves to maintain and generate momentum around himself, to enter the unknown, so that he could continuously find out what it means to create and perform. This process has resulted in many collaborations across the performing arts and into other artforms.
In his work, Máté maintains a strong focus on physicality and on the body as a dynamic object as the fundamental element of expression. In every creation, he strips down his intellectual problems to the core in order to recreate them as movements, in search of complexity, where space and light are equally important in the final outcome. He intentionally leaves space for the viewer to experience the work individually, where one needs to incorporate personal and cultural history, and become part of the creation.